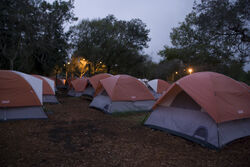 Three students at
USF's Honors College
have created a blog about housing options entitled,
Hope for Habitation
. Hope for Habitation provides information on housing options. The goal of the website is to help the community gain a more full understanding of programs aimed at solving the homelessness and housing problem. Although Hope for Habitation does contain general information, most of the content is specifically focused on the Tampa Bay area of Florida. For example, you will find information and interviews with residents and workers of Pinellas Hope, a tent city of Catholic Charities in St. Petersburg, Florida. Also featured on Hope for Habitation is information on public policy relevant to the housing and homelessness problem as well as links to local, state and national organizations. All are welcome to add to the information and resources on the blog by commenting.
Ad blocker interference detected!
Wikia is a free-to-use site that makes money from advertising. We have a modified experience for viewers using ad blockers

Wikia is not accessible if you've made further modifications. Remove the custom ad blocker rule(s) and the page will load as expected.