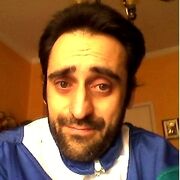 Giuseppe Sirugo (Torino, 1 de agosto de 1973 - 1 de agosto de 2013), ocasional escritor. Apasionado con el Freestyle & write.
Sin duda Giuseppe fue el solo fundador de su propio estilo libre de escritura. Y se considera que tal aprendizaje de carácter que en seguida no cambió en los últimos años de vida lo ha conseguido con la única variedad de libros leídos.
Al mismo tiempo que la crisis de empleo ha interrumpido el hilo de la claridad mental que le quedaba gracias a una vocación que podría haber algún principios espirituales decidiò de dedicarse al estudio, la lectura y posiblemente la escritura de algo.
Siempre en conflicto con si mismo, lo único que podía hacer antes de apagarse era levantar por la mañana y tomar un libro para ocupar el espacio de los días. Como se ha mencionado en algunas entrevistas raras de amigos esas horas pasadas en los libros fueron angustiante. Pero antes que la catarata iba a ofuscar los ojos confirmó que leer era la única manera para no ponerse nervioso siguiendo programas de televisión; probablemente por razones económicas se vio obligados a no salir del apartamento donde vivia y ni llamó al médico para algunas visitas. Leyendo mucho se hice consciente de que siempre ha sido un ateo.
Ad blocker interference detected!
Wikia is a free-to-use site that makes money from advertising. We have a modified experience for viewers using ad blockers

Wikia is not accessible if you've made further modifications. Remove the custom ad blocker rule(s) and the page will load as expected.