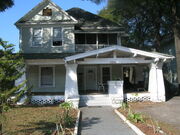 LOOKING FOR A
PLACE TO STAY?
Three  Locations
4202 N Nebraska Ave             2818 N Nebraska Ave                         2820 N Nebraska Ave
 Top Bunks -       $75 per week - $300 per month- $15 Per Day  Bottom Bunks - $100- per week and $400 per month-$20 Per Day Single Rooms -  $120 per week and $450-$550 per month- $25 Per Day
ü No Deposits
ü  Price includes all Utilities
ü  The bench for the #2 Bus is in our front yard
ü  Walking distance to major grocery stores
ü  Access to kitchen, bathrooms, washer and dryer, A/c in all rooms
ü  Manager on site
ü Homeless Recovery Clients Welcome
Call  813-294-0341 for more details…
* (We are filling up fast )
Ad blocker interference detected!
Wikia is a free-to-use site that makes money from advertising. We have a modified experience for viewers using ad blockers

Wikia is not accessible if you've made further modifications. Remove the custom ad blocker rule(s) and the page will load as expected.